All the Beatles albums (except of "Live at the BBC" and the "Anthology" ones, which are imported) and most of the solo albums released in Israel, sometimes with some slight differences (such as labels, small notes in Hebrew, B&W photos on the back cover instead of the colored ones etc). These interested only the fanatics among the die-hard collectors.

Here are four albums which have an interesting story, that makes them a must for every collector. Unfortunately they are hard to find, and two of them are not cheap at all.
---
Beatles Greatest
(Parlophone OMHS 3001)
The most famous and collected Beatles album ever made in Israel.
---
The Beatles
(Parlophone PCS 7067-8)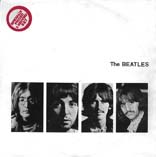 About 1000 copies from the first pressing carried a bonus single
which included the group's 1968 Christmas message.
Today their value is priceless.
---
John Lennon/Yoko Ono
Double Fantasy
(Geffen Records BAN 99131)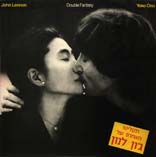 The first edition of the album had a note in hebrew saying:
"The last album of John Lennon".
There were a lot of protests and bad reviews about that
because people wanted the cover in its original form, without the note.
So it was removed from the next editions.
---
The Morning After Ensemble
The Morning After (Phonodor A13020)
For a larger image
of the back sleeve (55k)
click here.
Not a Beatles album, but a collectible item because of the photo of Akiva Nof,
the man behind the album, with John and Yoko.
Nof (who became later a member of the Israeli Parliament) interviewed John and Yoko
as a reporter of "The voice of Israel" radio station.
During this recording (which reportedly made during the Amsterdam bed-in)
the couple sang (in hebrew!) a song Nof wrote called "Jerusalem" and also the traditional "Hava Nagila".
John also made a quick version of "I Want You (She's So Heavy)" ending it with "Hello Israel".
---